The Great Camino Cleanup
Rochelle and Mike from Canadian non-profit environmental start-up A Greener Future are back from the Camino Portugues, where they picked nearly 6,000 pieces of litter. Their goal: raising awareness among locals and visitors about the impact of littering and keeping the Camino clean and wonderful. Here's how they got on with their Great Camino Cleanup. CaminoWays.com was proud to sponsor Rochelle and Mike as winners of our Greenlife Fund 2015.
By Rochelle Archibald, A Greener Future
Back in 2014, when we decided to hike the Camino Portugues, we had no idea what an adventure this journey would turn into. As we put more thought into our trip, it became much more than a hike. We had every intention of making this a spiritual journey for ourselves, but it grew into something bigger, and it wound up being a project that was able to reach thousands of people along the way. This was a wonderful, challenging experience that was far more than either of us had anticipated.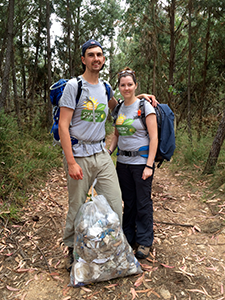 We started in Lisbon, Portugal, with great expectations and met challenges on the first day, including a broken boot, broken sunglasses, and reading the guidebook wrong, causing us to hike 42 kilometres on the first day. It wasn't the smoothest start, but it gave us more strength and resistance for the rest of the trip. Although we didn't have a specific number in mind at the beginning of our journey, we knew we wanted to pick up as many pieces of litter as possible along the Camino de Santiago, our first piece being a gum pack. The more we picked up, the more we found that the composition of the collected waste was very similar to what we picked up regularly back in Canada. Litter trends prove to be very similar even on the other side of the globe. The most common items were food wrappers, paper items, and plastic pieces, a pattern that is becoming all too common.
As we progressed along the route, we were fortunate to meet several amazing people who supported our cause. When having conversations about the impacts of litter, most people seem to understand the adverse effects and consequences, but why, then, is there still so much litter? No matter which country our fellow hikers originated from, they all mentioned that there was a litter problem back home. Is it a lack of a sense of responsibility? Or maybe a feeling that the damage is already done when litter is seen on every corner? Perhaps we'll never know; all we can do is raise awareness to get individuals to stop littering and pick up a few pieces when they come across them. We are so thankful for all the encouragement and thanks we received along the way, it was nice that our work didn't go unnoticed and empowering to know that so many people recognized our effort.
As we moved along the Camino, it was terrific to be surrounded by new sights and sounds. We were able to explore castles, eat local food, see beautiful landscapes, walk cobblestone streets, attend festivals, and learn about the local history. The best part was that we could make a small positive impact in each community we stopped in by cleaning up a bit of litter, leaving each place a little greener than before. Being in a new location each day provided a new adventure with surprises around every corner.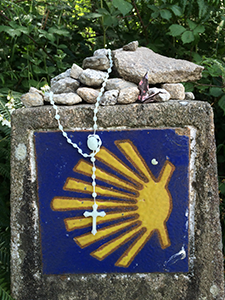 Ultimately, we picked up 5,904 pieces of litter along our 650-kilometre hike. This included 1,484 food wrappers, 1,402 paper items, and 1,067 plastic pieces. We are very proud of this accomplishment and hopeful that we raised enough awareness to affect change and ensure the preservation of our earth, including our historical landmarks such as the Camino. Reaching the cathedral at the end of our journey is a feeling unparalleled by any other. The relief you feel because you've survived the entire trip, the accomplishment you think for completing something so big, and the hope you feel for the future, knowing that you can do anything you set your mind to. We are so grateful that we were able to complete this project with CaminoWays.com, and we are optimistic that we can help create a greener future for the planet and people, even if it's just one litter at a time.
Read about A Greener Future's Great Camino Cleanup and the Camino Ways Fund.
For more information about the Camino Portugues and other Camino de Santiago routes or to book your Camino trip, contact our travel specialists