Glassblowing in Tuscany
While walking the Via Francigena in Tuscany, you will be able to discover and appreciate one of Italy's most traditional crafts: glassblowing.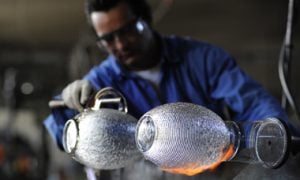 Since this particular skill has started to disappear in our modern world, where could you find this art still alive? It will be in the small and rustic town of Colle di Val d'Elsa, on the Tuscany section of the Via Francigena. Despite its small size, roughly 15% of the world's crystal (and 95% of Italy's) is made in Colle di Val d'Elsa. The town was nicknamed the 'City of Crystal' during the 19th century, or 'Città di Cristallo'.
Take the chance, while staying in the village, to learn more about the history of crystal and the local glassworks at the local Lead-Glass Museum.
If you are walking the Via Francigena from Lucca to Siena, you will reach Colle di Val d'Elsa on the 4th day of your pilgrimage. You could then certainly spend a bit of time to truly discover this skilled traditional craft.
Glassblowing: a historic profession from Roman times
The blowpipe, essential tool for glassblowing was originally invented by Syrians. However the Roman empire embraced the technique and applied it with great flare to a wide variety of art forms. Since the Arts held all precious and most-valuable knowledge, they were often used as a means to display Roman power and success. Glassblowing was one of the must-known crafts that highlighted the cleverness and expertise of Roman technique. Fancy, colourful and playful glass work such was vessels were traded by the Romans all over the Middle East.
The main glassblowing centres in Italy were located in Venice as well as an entire island dedicated to it in 1291: the Murano island. Glassblowers improved the technique to reach perfection by developing an unique clear glass called cristalo. They were the only ones who managed to get pure and vivid colours such as deep blue, emerald and amethyst during this period.
However even if glassblowing was sought after, unfortunately from the Dark Ages its production started to decrease, especially in Europe, making it today a rare craft and skill in danger of disappearing, both in Italy and the rest of Europe.
Tempted to take the path of the Via Francigena, the Camino to Rome, and discover more about Italian culture? contact our travel specialists for advice, a personal itinerary and free quote.