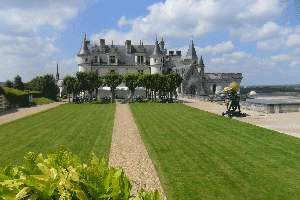 The CaminoWays.com team members continue their blog post series sharing their experiences on the Camino. Today, Claire, CaminoWays.com Travel Specialist and Customer Care team, tells us about her favourite Camino de Santiago place. Her chosen Camino spot is Amboise, along the Paris and Tours Way, one of the Camino routes in France, then joining the French Way in Saint Jean Pied de Port.
My favourite place on the Camino would have to be Amboise. Amboise it is located on the Paris-Tours Way. It is on the second section between Orleans and Tours and it is located on the banks of the Loire River. One of the highlights of Amboise would have to be its castle and its garden, which are registered as a World Heritage Site by UNESCO. Leonardo da Vinci had actually spent a lot of time in Amboise and he is buried on the castle's grounds and you have really fantastic views of the surrounding areas from the castle. There is a lovely atmosphere in this medieval town and it is a great place to visit because because of its history, its lovely restaurants and it is a great place to sample the wine of the Loire Valley.
*Do you have a favourite Camino de Santiago spot? Share it with the CaminoWays.com team and we'll publish it on our blog. We would love to see your Camino Memories too. Submit them here.
*For more information about the Camino de Santiago and/or to book your holiday, contact our travel specialists.