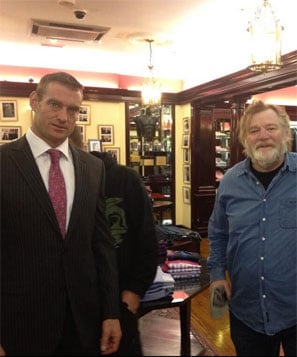 Dublin Fireman To Walk The Camino in His Best Suit
Clodagh Sheehy, 07 September 2013
DUBLIN firefighter Ger Devine will trek the ancient Camino de Santiago in a suit and tie – and all because of a dare.
Dressed in a pin-striped suit, Ger heads to northern Spain on Sunday for a 1,000km walk along the famous route.
The 37-year-old rose to the challenge when close friend, stand-up comedian PJ Gallagher, dared him to do the walk in a suit, shirt and tie, complete with a brolly and a hat.
Despite the fact that his longest walk to date was "one night when I missed the late Nitelink bus", Ger will be walking 40km a day – the equivalent of a marathon.
He flies to Biarritz tomorrow with all his luggage in small briefcase.
His €900 pin-striped suit, donated by Louis Copeland, has been given the stamp of approval by none other than Irish Hollywood star Brendan Gleeson. (See the picture he posted on his Twitter feed)
"He was in Louis's shop the day I tried on the suit and he told me 'you look great'," he told the Herald.
Ger says he keeps fit with a "a bit of cycling" and he has played hurling, but has never walked such a long distance.
"My biggest problem is that I have only 28 days' leave so I'll have to walk 40km a day instead of the usual 22km. I will get in late to the hostels."
When Ger gets home the next plan is a charity cycle with PJ from Galway to Dublin in aid of Temple Street Children's hospital.
*This article was published originally on Herald.ie: http://www.herald.ie/