The coolest Camino souvenirs
The scallop shell is without a doubt the most iconic and traditional Camino de Santiago souvenir. For centuries, the scallop shell has been worn by pilgrims on their way over and back from Santiago de Compostela. In addition to the classic scallop shell, the 'coquille St Jacques', 21st century pilgrims have many other cool Camino souvenirs to bring home. We have selected our favourite ones, what do you think?:
Camino pumpkin
Another classic Camino souvenir is the pumpkin. Traditionally, pilgrims used hollowed pumpkins as flasks to carry water for their journey. Pilgrims generally attached their pumpkin-flasks to their walking staff/stick.
Black jet – Azibeche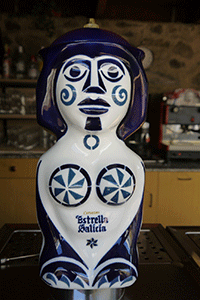 You will find many traditional and contemporary artisans and crafts in Santiago de Compostela. Black jet (called 'aziveche' and 'azabache') and silver have a special place in the city: one of the side squares of the Cathedral is called 'Praterías' ('silversmiths') and one of the side streets is called Rúa da Azivechería (Black jet street). Black jet is not found in Galicia but silversmiths in Santiago have been working this stone and crafting little souvenirs for pilgrims for centuries (as far back as the 13th century). Medieval pilgrims used to carry this stone to give them good luck and protection for their journey to Santiago de Compostela. Most of the jet used today comes from the region of Asturias.
Ceramics
Other regional crafts from Galicia include ceramics, the most famous being Sargadelos, with its distinctive blue and white hand painted patterns (Sargardelos is a very traditional wedding gift in Galicia) and Galician traditional motifs such as native animals, monuments and landmarks, Galician writers, etc… Lace work from A Costa da Morte, basketry and many other classic crafts can be found in many small shops around the city.
Food, glorious food
Galicia has superb fresh food you won't be able to pack in your suitcase but go for a look at the Mercado de Abastos and other small grocer shops around the old town. So we can't pack an octopus right? but you will find a huge range of local foods to help you bring back home a taste of the Camino:
Galician cheeses such as Arzúa-Ulloa, tetilla and San Simón.
Canned seafood and fish is handy to travel with and some of them are delicious: little sardines, cockles, mussels.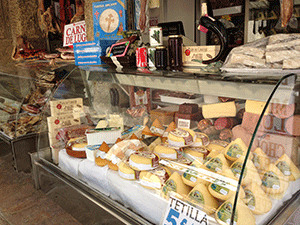 Sweet treats: Pedras de Santiago (local artisan almond chocolate) and Tarta de Santiago will be the most obvious choice.
Have you got any interesting souvenirs from your Camino de Santiago adventure? We'd love to hear about it!
You might also like to read our blog post The Scallop Shell and the Camino de Santiago.
For more information about the Camino de Santiago or to book your Camino holiday contact our travel specialists