CawleyCamino Day 3… Arcade to Pontevedra…11Km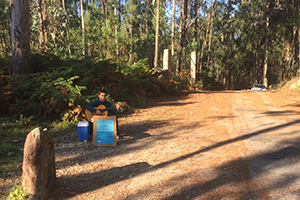 by Eamonn
First lie in of the trip…as late as 8am in fact..oh the joy of it all. Despite immersing my body in hot and cold water several times a day I'm as stiff as an old boot. Can only touch my toes with walking sticks. Across the bridge as we exited town, sail boats drifting and glinting in the clear morning light. A group of German pilgrims/drinkers toasted us as we passed at 09.30. It's gonna be a long day for them!
Hilly and then some more, a tall lady holding a child and surrounded by hens waved us along, just her and the child, not the hens, they just clucked at us sympathetically! Up a steep large stone path through a fine forest where a guy playing a guitar serenaded us with The Wild Rover when he heard our accents. His enterprise warranted a voluntary contribution, not many people get 50 cents from Phil Cawley!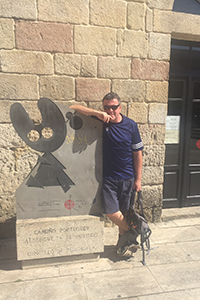 We reached the Oasis coffee bar at about half way and gave the toes some air. Yvonne, of the unused walking sticks, misses her 4 and 6 year old sons but admits that her husband is playing a stormer back home. Frances from Rush lamented the paucity of good restaurants in her town and has to take her business to Stoops in Skerries. Susan from Dungarvan, who has a bad heel blister, owns a restaurant called Interlude on the quay and confirmed to me that Paul Flynn of The Tannery is a man of great Taste …and he turned 50 recently. On we went through more fine forest and caught up with Terri from Cork, soon to be Limerick, who was standing attendant while Clair, her friend opened a new eco superloo just off the forest path…the bare cheek of her!
Lots of talk about blisters, heel spurs and rigor mortis but these are men and women of steel and are ploughing on gamely. So well was it going at this stage that some bravehearts decided to add on another 2 kms with an off road detour admittedly through some beautiful river woodland and before long we were entering the town under the pont of Pontevedra. All in all a bit of a doddle compared to the 24 km that awaits us tomorrow from Pontevedra to Caldas de Reis. More pain coming I fear…ouch! The good news is that we are about half way to our goal.
Eamonn is walking the Portuguese Way as part of the #CawleyCamino trip with Today FM Phil Cawley.
Read Eamonn's next post:
#CawleyCamino Day 4 from Pontevedra to Caldas de Reis
For more information about Camino de Santiago routes or to book your Camino trip, contact our travel specialists