Camino, the Journey to Santiago – Interview with Alicia Wszelaki
Alicia Wszelaki is the co-director along with Matthew Notherlfer, of 'Camino, the journey to Santiago', an intimate short documentary about a trip along the Camino de Santiago.
The movie is premiered in Santiago de Compostela this week as part of the first Film and TV Festival focused on the Camino de Santiago. This is a great achievement and we want to send our congratulations to Alicia and everyone who worked on this film.

Alicia first found out about the Camino in 2010. Having completed the 88 Sacred Temples pilgrimage in Japan, she started researching other pilgrimage trails. Alicia decided to walk the Camino from Saint Jean Pied de Port to Cape Fisterra in 2011, with co-director Matthew. Along the way, they filmed the footage what it would later become 'Camino, the journey to Santiago'.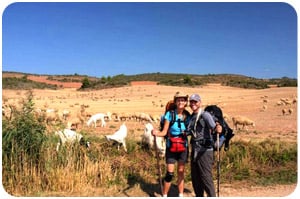 Maria from CaminoWays.com talks to Alicia about her movie and what moved her to produce a documentary about her experience on the Camino de Santiago. You can listen to this interview on our podcast.
For more information about the Camino de Santiago, please don't hesitate to contact us. To read more pilgrim stories, be sure to check out our blog. Buen Camino!