Why we love … The Camino
This week we asked our Camino experts what it is that makes the Camino de Santiago so special. Their responses were varied, heartfelt and unique. Here's what they had to say: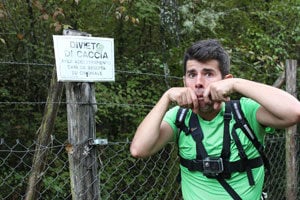 JuanMa – Portuguese Coastal Way
Outdoor enthusiast, musician and office jester JuanMa hails from the town of Vigo on the Portuguese Coastal Way. He moved to Ireland seven years ago with the solitary goal of becoming the best English speaker in Vigo. With a brand of English that's now drenched in a thick Dundalk brogue, we think he has reached his goal. Here's what he had to say: I love finding myself stripped of all worries, going back to a primal sense of survival and achievement. It is about learning through the challenge how to face situations that you will relate to later in your life. My favourite places are those where we had a genuine laugh or looked at each other exhausted or discovered something new about somebody or those special enough to evoke thoughts and realizations."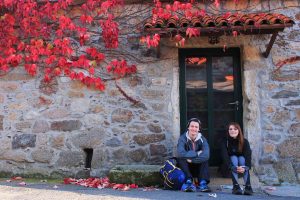 Sean – French Way
We sent Geography Wizard Sean to walk the French Way back in October to check out the routes and put his navigation skills to the test. Coming back with a beautiful collection of photos and a wealth of Camino knowledge, he did not disappoint! Here's what he loved about the pilgrimage: "Back in October I got the opportunity to do the Camino with 2 of my now very close friends.
The special thing about the Camino that I found, was that it allows you the time to think. You get the opportunity as you simply put one foot in front of the other to really appreciate the natural beauty of the world, the special people in your life and the people no longer there. In candour, I found you get the headspace to think about your own life back home, away from your life back home.
Every day on the Camino, you can hear amazing, powerful personal stories from real people that you met by chance. Some of their stories resonate with you, while others you may simply forget, however you are undeniably left with the feeling that you were meant to meet these people and in the end, both of you are changed. This is what I loved about the Camino, the chance encounters, the unforgettable stories and the time to think."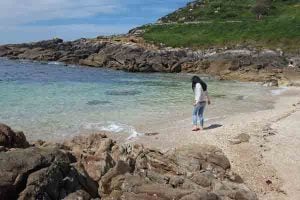 Lisa – Coastal Camino

Marketing Manager Lisa will never forget her trip on the
Portuguese Coastal Way
last year on which her, now fiancé, got down on one knee at the Santiago Cathedral and proposed!
"Getting outdoors is one of the ways that I turn off from the daily routine and tune in to the landscape around me. Walking the Coastal Way from the beautiful seaside town of Baiona was the trip of a lifetime. We spent our time strolling through charming Spanish towns, eating the most delicious seafood and discovering how lucky we were to have the time to explore. With a camera by my side I felt like I was capturing moments that would stay with me forever. When you are about to embark on any unique journey people will often say that it isn't for everyone but a walking holiday is. It is as easy as putting one foot in front of the other and having the courage to take the first step."
Aoife – Camino to Rome
Then there's me, who had an unforgettable trip swilling wine and gorging on pasta on the fantastic adventure that was walking the Camino to Rome in autumn. A trip which would not have been the same if it wasn't for my three wonderful colleagues and the dazzling people we met along the way. "What I like is the slowness, having time to process my thoughts and to use my body in the way that it was designed. I had the great privilege of growing up in quite a rural part of the country with an infinity of green fields and forests to roam. To return to my natural state and break free from my fast-paced urban life is sacred. To revert to a time where the only strong connection to be found was not to Wifi but to each other, to ourselves and to the land. To slow down is a freedom, to stop is divine. Walking to me is to achieve the impossible, to return to the innocence and simplicity of childhood, to go backwards."
For more information on the Camino de Santiago or to request a quote contact our travel specialists.