One Lost Soul Finds His Feet on The Camino de Santiago
Francis Fitzgibbon tells the story of how one lost soul managed to find his feet along the Camino de Santiago.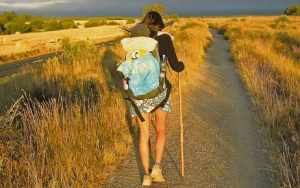 Francis Fitzgibbon
14 September 2013
The heat of the midday sun was beating down as I struggled to make it to the top of the hill. Sweat and tears mixed in perfect harmony as they rolled down my face. Just near the top of the hill, there was a sign, hand-painted on a board and nailed to a tree.
The sign said: 'Just keep walking!' I stood at the end of the sign and cried floods of tears. It was so simple that I hadn't thought about it. Just keep walking. I was on day three of the Camino de Santiago, a pilgrim's walk that starts in southern France and traces the ancient route of the pilgrims to Santiago de Compostela in north-west Spain.
I had been motivated to walk the Camino during my third and most elaborate midlife crisis. The idea of walking through one of the world's best wine regions would allow me to drown my sorrows at €2 a bottle rather than the €15 it would cost for a good Rioja in Dublin.
The Camino weaves its way through some of northern Spain's finest landscapes and vineyards. Pilgrims walk between towns and sleep in specially designated pilgrim hostels, where a basic dorm bed and shower are provided for less than €10. The average pilgrim walks between 25 and 30 kilometres per day before resting up for the night and engaging in stories of the day's journey.
I am not sure why I was walking along a route that thousands before me had chosen to walk. I am not religious. I think I just wanted to take time out to look at my life. To step back and see if I was happy with how my life has gone.
I lost my father a few years previously and had gone into serious mortgage debt and I had allowed all of these things, along with the regular stresses of life, to dominate.
Walking across Spain, while to some would seem insane, seemed like the perfect thing to do at this juncture. One foot after the other along a pathway with thousands of other lost souls, each of them with a story to tell, each of them with a reason to be there.
One man told of losing his daughter to suicide. He decided to walk the Camino to find out why. Of course, he soon figured out that he would never know why. What he could do was come to terms with what had happened. Each day, as he walked and cried, he came to realise he wasn't to blame and all he could do was move on with his life. Just keep walking.
I met a young girl from Texas who had just recovered from breast cancer. She was walking the Camino as she felt she had received a second chance. She too, like all the others, wanted to take stock and decide on a new future. She told me she realised on the Camino that life was too short to be unhappy. Cancer took her to the edge of life and forced her to realise the bigger picture – that life is short.
The peace of walking in the quiet countryside allowed me to reflect. All along the pathway to Santiago, I continued to meet and share with people who were also there to reflect. Some wanted to talk and others just wanted to be on their own with their thoughts. But each had the same goal: to walk to Santiago de Compostela.
One of the realities of the Camino is that all you bring on the walk is what you can carry on your back. You return to the bare essentials. I am reminded that pilgrimage is a concept as old as time itself, where people try to search for that very sense of meaning that drives us to get up on a wet and rainy Monday morning at 7am to start another week of work.
The real beauty of the Camino is that everyone is in it together. Everyone helps each other along the way. If someone has blisters on their feet and can't walk, another offers plasters, or to carry their bag. I needed to see this level of humanity at play given that I work in a challenging environment where my faith in humanity is sometimes questioned.
Pilgrims share food, everyone stops to say hello, even if they don't speak your language. A cup of water and the offer of chocolate are never far away.
The sign, 'Just keep walking', was more than a simple sign. It was a metaphor for life. Someone had done this very simple act of painting a simple sign that on that day meant so much to me. In my hour of tiredness and emotional meltdown, someone had encouraged me to keep going.
When you're tired and bruised, be it physically or emotionally, just keep walking, keep moving along the path. Some days you will be uphill, other days downhill, just like life.
It is this sense of camaraderie and a single common goal that gets the pilgrims to the end of the path in Santiago 33 days after they set out.
The idea of a pilgrimage is to clear the mind in order to let go of the smaller worries and ponder the bigger reflections in life. I was there to find some meaning. I was there to establish what's important and to take a refresher course in what life is really all about. Most of all, I was there to just keep walking!
*This article was originally published by the Independent.ie