'I'll Push You' is the story of two friends with an unbreakable bond. In 2014 Justin Skeesuck and Patrick Gray set out on an adventure like no other. CaminoWays.com agreed to support the pair after learning of their unique circumstance. Following a terrible car accident when he was 16, Justin was left fighting an auto immune disease. Today, since losing the use of his arms, legs and hands, Justin is confined to a wheelchair. He's determined to stay positive, and now dedicates his life to supporting others and inspiring people with disabilities to keep living their lives to the full.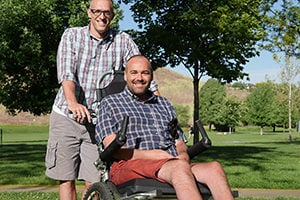 When he came up with the idea to do the 800km full trail of the Camino Francés his life-long friend Patrick agreed to push him. What followed was a truly inspirational and emotional journey, as Patrick pushed and pulled Justin over steep hills, across muddy farmland and down winding rural paths. A tale of brotherhood, friendship and perseverance that captures the magic of the ancient Camino trail was expertly shot by director Terry Parish.
Justin and Patrick have been in high demand in recent months since completing 'I'll Push You'. They have appeared on a host of major US TV networks this year including The Fox Network and NBC. The pair even gave their own Ted Talk, furthering their goal to communicate a message of positivity to those needing it most. 'I'll Push You' will be premiered at the Newport Beach Film festival in California this week, and has already sold out three of four screenings.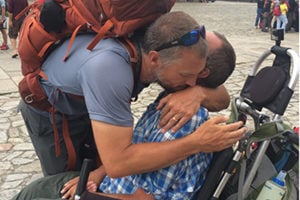 This is testament to the hard work that has gone into the project and CaminoWays.com have been delighted to be involved throughout the process.
The annual Greenlife Fund has been set up by Dublin-based Greenlife Tours Ltd. (best known as CaminoWays.com and IrelandWays.com) to support inspirational projects that promote responsible travel practices, tackle environmental issues or address specific issues faced by communities and travellers on all Greenlife Tours trails: the Camino de Santiago (caminoways.com), Via Francigena ( francigenaways.com ) and Ireland ( irelandways.com ).

For more details on 'I'll Push You' please visit the official website here: https://www.illpushyou.com/.
For more information on the Greenlife Fund, or for details on any of our walking or cycling trips, contact our travel specialists.