At this difficult time, our thoughts are with the family of John Brierley, who recently passed away. I would like to honor and celebrate the life of a remarkable individual whose profound impact on the Camino de Santiago pilgrimage has touched the hearts of countless pilgrims worldwide.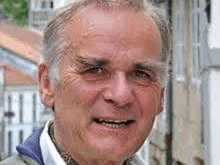 John Brierley, a beloved guidebook author, was not only a source of practical information but also a guiding light for those embarking on the transformative journey of the Camino. His dedication to the pilgrimage and his unwavering passion for sharing its spiritual and emotional dimensions were evident in every word he penned.
Through his meticulously crafted guidebooks, John provided pilgrims with comprehensive resources that not only navigated the physical aspects of the Camino but also delved into its profound spiritual significance. His words served as a compass, offering insights, reflections, and encouragement that went beyond mere directions and maps.
Beyond his guidebooks, John's presence on the Camino was a beacon of warmth and generosity. Many pilgrims had the privilege of encountering his genuine hospitality, his words of wisdom, and his willingness to share his vast knowledge. His genuine care for the well-being of fellow pilgrims and his ability to forge connections created a sense of community and support along the pilgrimage.
The legacy of John Brierley will forever endure in the hearts of those who have embarked on the Camino and been touched by his guidance. His words continue to be cherished, passed down from pilgrim to pilgrim, carrying the spirit of his passion, wisdom, and love for the journey.
John Brierley dedication, compassion, and profound insights have left an indelible mark on the Camino de Santiago and the lives of countless pilgrims who have found inspiration, solace, and transformation along its sacred paths.
Our hearts go out to the family of John Brierley during this difficult time. May they find consolation in knowing that his legacy lives on, and may they be comforted by the knowledge that his contributions to the Camino de Santiago pilgrimage will continue to guide and inspire generations of pilgrims to come.
Roland, pilgrim and caminoways.com founder.