The Great Camino Clean Up
CaminoWays.com is supporting The Great Camino Clean Up this summer. Canadian environmental organisation 'A Greener Future' will travel the Portuguese Way for three weeks.
To continue our efforts in support of eco-friendly travel, we have developed a special fund for responsible travel and inspirational projects. The Green Life Fund is an annual fund awarded to individuals and organisations that meet our green life criteria. This year we are the main sponsors of The Great Camino Clean Up organised by Canadian environmental organisation A Greener Future.
Founded by young Environmental Science graduate Rochelle Archibald, A Greener Future is a Canadian non-profit environmental organisation focusing on local and international clean ups and educational projects; as well as raising awareness about environmental conservation across the globe. Starting on 20th May, Rochelle and Mike will embark on an adventure across the 650km of the Camino Portugues over three weeks. Rochelle's mission is to work with local communities to create a cleaner and healthier environment for future generations, raising awareness and leading by example.
Roland Monsegu, Director of CaminoWays, says, "Giving back to the local community is an integral part of Camino Ways' responsible travel policy. The Great Camino clean up captures that spirit, and we are proud to support inspirational projects such as The Great Camino Clean Up organised  by Rochelle."
Rochelle and colleague Mike will be setting off to the Portuguese Way on 20th May, spending three weeks walking sections of this Camino de Santiago route in Portugal and Spain and organising clean-ups and events along the way. We look forward to all the updates along the way and checking in with Rochelle and Mike for future eco-friendly initiatives.
Each year we will support an initiative that aspires to consider and protect the environment around them. Whether it is your first walking or cycling holiday, or you are an experienced walker/cyclist, your holiday should always consider responsible travel. Environmentally friendly vacations in any part of the world should be a positive experience for the tourist, the community and the environment. The Green Life Fund has set criteria, submission guidelines and a responsible travel checklist. An eco-friendly project should have some aspect of community engagement, inspire others, be sensitive to the environment that they are in, educate others and protect the natural and cultural landscapes around them.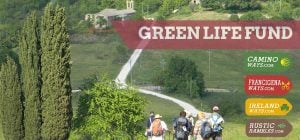 CaminoWays.com director Roland Monsegu will announce details for the Greenlife Fund 2016 in the coming months, designed to support projects such as A Greener Future and I'll Push You, the inspirational story of two best friends on the Camino the Santiago, supported by CaminoWays.com in 2014.
If you would like more information about the Green Life Fund or book your Camino de Santiago vacation, contact our Travel Specialists.