CaminoWays.com launches the CaminoWays Fund
CaminoWays.com, part of Greenlife Tours Ltd, has launched The Camino Ways Fund to support international responsible travel projects.
This special fund will support travel projects that promote respect for the environment, encourage sustainable tourism or tackle a particular social issue in a community or region.
This initiative reflects CaminoWays.com's dedication to responsible travel. Each year, CaminoWays.com organises walking and cycling tours along the beautiful Camino de Santiago, encouraging travellers to pay attention to their natural environment and the local culture and communities.
Roland Monsegu, Director and Owner of CaminoWays.com and Greenlife Tours Ltd, explains, "We are looking for projects that encourage others to travel responsibly, to tackle a particular social issue or to help local communities and the culture of the regions they travel to.
"CaminoWays.com has supported exciting and inspirational projects in the past couple of years, and we want to make it an annual event. We encourage groups and individuals with interesting projects to apply for the Greenlife Fund 2016."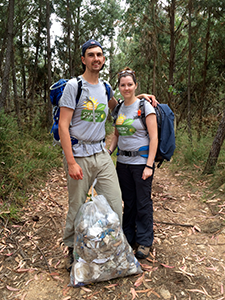 In 2014, CaminoWays.com supported the I'll Push You Camino project, which saw best friends Patrick and wheelchair-bound Justin complete the entire 800km of the Camino Francés route. This year, we teamed up with A Greener Future to support their Great Camino Clean Up, which saw over 6,000 pieces of litter collected along the Camino.
Anyone interested in ecotourism and social responsibility is encouraged to apply for the Greenlife Fund. Each year a winning project will receive up to €1,500 to support its planned activities and marketing, promotional and logistics support. The Greenlife Tours Ltd team will select the chosen project in January 2016.
Applying for the Greenlife Fund 2016:
1. Applications are open to groups or individuals.
2. Projects must be related to the communities or regions related to the Greenlife Tours destinations – the Camino de Santiago routes (caminoways.com), and Via Francigena.
3. Projects must take place in 2016.
4. Projects must fit into one of the following categories: Promoting respect for the environment, inspiring others, educating others about protecting the environment, promoting sustainable and responsible tourism and tackling a particular social and/or human problem affecting a specific community or region.
5. Applications must be made before 31st December 2015.
To apply, go to Camino Ways Fund 2016.
For more information about the Camino de Santiago or to book your Camino trip, contact our travel specialists.