Your Camino Travel Documents
Your Camino travel documents are an essential part of your Camino de Santiago trip with CaminoWays. These holiday packs are customized to suit your trip and are specially prepared by the CaminoWays team. The Camino Holiday Pack contains all the travel documents you need to enjoy your walking holiday with CaminoWays.
You will receive a link to your travel documents prior to departure and once your booking is fully paid. From here, you will be able to log in to your client portal and view your itinerary. This itinerary can be printed 48 hours before your trip.
The Travel Documents:
Services Information and Hotel Directions:

Here you will find all information relating to your accommodation, luggage transfers, airport transfers and other services you have booked with us.

Route guidebook

: These contain helpful information about your chosen route or routes.

Live Google Map

: This will help you to navigate. However, the Camino is

well-marked and easy to follow,

 so this is an optional service.
You will need to bring a Luggage tag with your name, the group leader's name (if it is not you) and your booking reference code (ie CW12345).
More Information About Your Camino
Like with any other holiday, we recommend you bring any additional literature you might have or want. A good starting point is our Camino blog, where you can read our latest articles about the Camino, its festivals, our Camino FAQs and more.
Please also familiarise yourself with our assistance phone number, which will be available to you in your travel documents for the duration of your trip.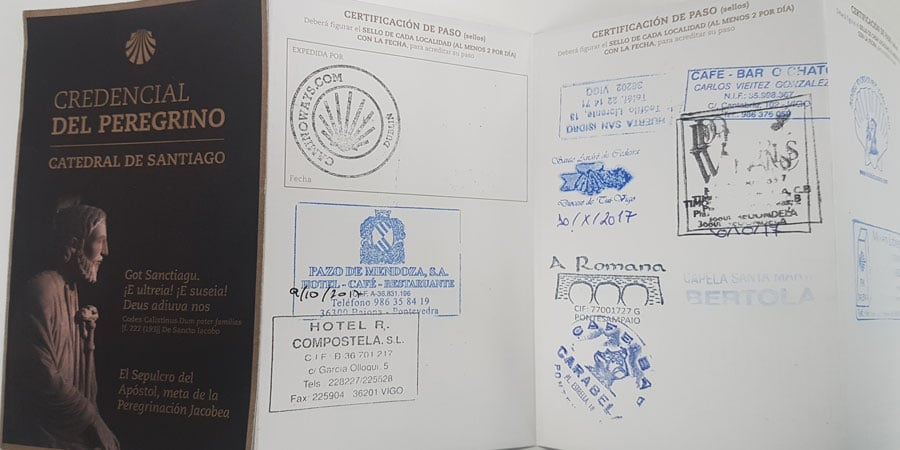 This is the pilgrim passport also known as 'credencial'. You will need to acquire one before you start walking and you should stamp it each day during your Camino, tracking your journey's progress.
You can order yours online from the following links:
For more information about your travel documents, please don't hesitate to contact us.