Camino Groups FAQ
What type of groups do we work with?
We organise treks for groups on Camino de Santiago routes, the Via Francigena (Camino to Rome) and other fantastic cycling and walking trails in Ireland and Europe. We work with walking clubs, parish groups, colleges, universities, school groups, charities, scout groups and families. Camino Groups FAQ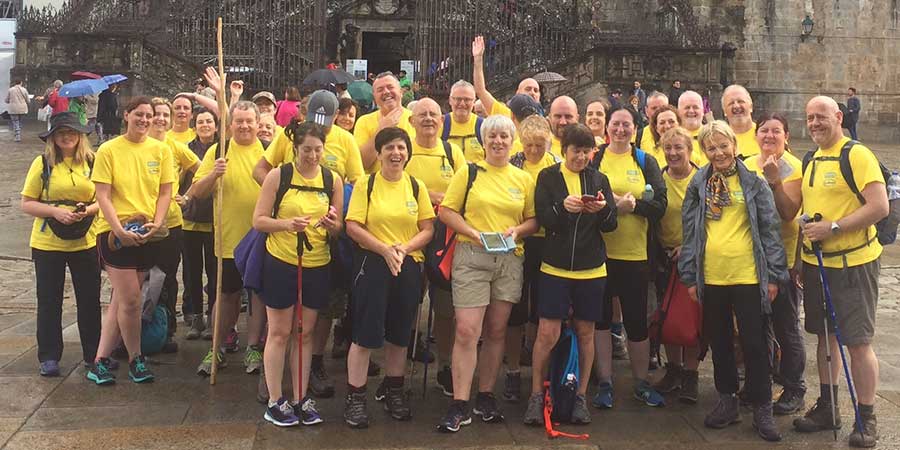 Pictured: Today FM Phil Cawley and the Cawley Camino team in Santiago de Compostela.
What are the best destinations for group tours?
The most popular routes for our group treks include the last 100kms of the French Way from Sarria to Santiago, the last 100kms of the Portuguese way from Tui to Santiago, the Portuguese Coastal route and the Via Francigena route in Tuscany, Italy.
What do your group walking trip itineraries include?
Our itineraries include accommodation for your group, meals, luggage transfer between hotels on walking days, detailed walking notes and maps and an emergency contact number. We can also add day tours and sightseeing for your group.
What level of difficulty for your group?
The route or section that you choose will depend on the type of vacation that you are looking for. Walking clubs and hiking clubs may choose some difficult walking routes along the way or you may be a group travelling together for fun and adventure. Both ways of experiencing the Camino are equally enjoyable. It is up to you what pace you want to go at and we will help you to decide on the best section to suit the level of difficulty the group wishes to take.
Can you provide tailored itineraries?
Yes, we can fully tailor and adapt your itinerary to suit the needs of your group.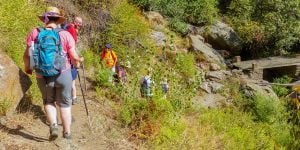 Can we have a guide?
Yes, if you feel your group trip could be made better by the presence of a local guide we can provide one for you and your group. We recommend a guide for any group with 15 or more people.
Can you come to speak to my group?
Yes, if your group is based anywhere in Ireland we can come to visit you to discuss your group tour in more details. For groups based outside of Ireland we can arrange a Skype call.
What meals are included?
For groups of 15+ we include both breakfasts and dinners. We do not provide lunches during your walking tour as good lunches can be found at the numerous cafes along the routes.
What are the hotels and rooms like?
Our standard tours include good quality 3 star hotels with friendly staff. We also offer 4 star and 5 star hotels if you would like to upgrade for some or all of your trip. All rooms are en-suite and we offer single rooms (1 single bed), twin sharing rooms (2 single beds in the room) or double sharing rooms (1 double bed).
How do luggage transfers work?
Once you confirm your trip we will send you luggage tags for your group which each person needs to place on their bag. Each morning before you begin your walk, you need to place your bag downstairs at reception in the hotel. The bag will be collected by the luggage transporter and brought to the next hotel.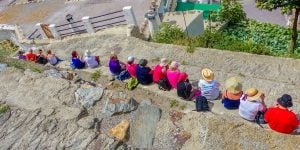 Do you offer discounts for group tours?
As standard we offer a 12% discount for groups of more than 10 persons. Further discounts may also apply is your group is above 20 people.
How large can our group be?
We handle groups of between 10 and 120 persons.
Do you arrange airport transfers?
To make your group trip run more smoothly we can offer airport transfers from any Spanish airport to the start and finish point of any Camino trip.
Similarly, we can arrange airport transfers for group tours on our routes in other countries (Portugal, Italy, France, etc.).
How does payment work?
Once you have confirmed your trip, payments can either be made to us through the group leader or organisation, or members of your group can pay individually. Payment can be taken over the phone or using our online booking form. If paying individually, the deposit for most trips will be €180 per person (this may be a slightly bigger amount for longer tours). If the organisation or group leader is paying directly, the deposits will generally be 20% of the total trip cost.
Do you offer fitness advice to groups travelling on the Camino?
All groups can receive a free copy of our 6-month fitness guide. You can download it here.
We hope you found our Camino Groups FAQ useful. Please contact us if you have any other queries.