An Amateur Cyclist in Tuscany
I could never be described as an avid cyclist or, any type of cyclist come to think of it. But this October I had the enviable honour of going on a cycling tour through Tuscany along the Via Francigena cycle from Lucca to Siena with two of my work colleagues. As an amateur cyclist I needed to be organised. In preparation for my cycling adventures I came up with a comprehensively vague training plan. The checklist read:
Buy a Bike. Check.
Cycle Bike. Due to unforeseen difficulties with the tyres of said bike, I'm still waiting to check that one off the list.
Buy a helmet. Also unused and in very good condition if anyone is interested?!
Purchase Tesco's Finest cycling gear. Check.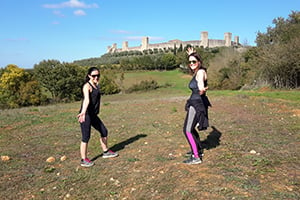 I was ready to take on the world or at least Tuscany…on my bike (rented of course).
First stop on the tour was Lucca, from there we cycled on to San Miniato, to Colle di Val d'Elsa and finally to Siena- many places and many kilometers of cycling to my initial dismay. We cycled down hills, we struggled up hills, we pushed, we lifted and we persevered each day to achieve what on my itinerary, seemed impossible. As we moved through the tour and clocked up the kilometers I found that my outlook became more positive and my mind more invigorated with each passing day, despite my road weary body! Who would have known that pushing yourself to the limit or what you thought was the limit, would be so adrenalin pumpingly addictive?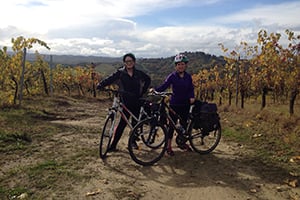 So much so that as we cycled into Siena on our final day, I was filled with conflicting emotions, of equal parts relief and sadness that it was all over. I felt like an Olympian and that I had captured the unique experience that is to persevere and succeed.
There were many highlights to the trip, to name a few the beautiful scenery and breathtaking landscapes of Tuscany; However, for me the main ingredients that made the whole experience truly fulfilling even in the face of punctures, weather conditions that rivaled Ireland and days that drew in too soon were; good company provided by my work colleagues, good food provided by the many fine establishments we patroned and finally the unwavering hospitality and genuine helpfulness of the locals.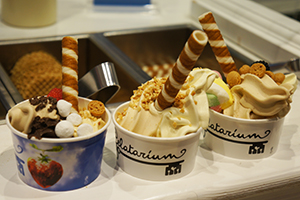 And finally to all sweet tooth enthusiasts, each stop offered a plethora of diabetic delights but the cherry on the top for me was a Gelateria I discovered offering ice creams and toppings that Willie Wonky would be proud of. I can tell you that eating my Gelato, swinging on the swings, that were hanging from the roof, lifted my cycling soul and I hope after sharing some of my experience with you that it might inspire you to tie your shoes, take a leap and get on your bike!
For more information about our tours in Tuscany or to book your next walking or cycling holiday on the Via Francigena contact one of our travel specialists.