On the Camino de Santiago, you will meet many fellow pilgrims from all over the globe, speaking many different languages.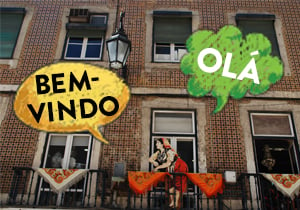 While you might meet many English-speaking along the way (both pilgrims and service providers), you will also need a few basic phrases in Portuguese to communicate while walking the Portuguese Way or Camino Portugués, particularly in smaller villages and towns across Portugal.
Here's a list of basic Portuguese vocabulary you might find helpful on your Camino. Before you travel make sure you print our handy list of Portuguese for your Camino:
English

Portuguese

Accommodation/Services

Alojamento/Serviços

I'm looking for…
Estou à procura de…
I'd like to…
Gostaria de…
Where is…?
Onde é…? (for a place)
Onde está…? (for someone)
How much is …?
Quanto custa…?
Quanto é…?
I don't like it
Não gosto disso
It's fine
Está bem
Too expensive
Muito caro
Cheaper
Mais barato
Where are the toilets?
Onde é a casa de banho?

Conversation Essentials

Conversação e Fundamentais

Does anyone here speak English?
Alguém fala inglês?
Hello
Olá
Good morning
Bom dia
Good afternoon
Boa tarde
Good evening
Boa noite
Bye/See you
Tchau / Até logo
Please
Por favor
Thank you
Obrigado
You're welcome
De nada
Sorry/Excuse me
Desculpe / Com licença
What's your name?
Como é que se chama?
Qual é o seu nome?
My name is
Meu nome é…
It's a pleasure to meet you
É um prazer conhecê-lo
Where are you from?
De onde você é?
I am from…
Sou de…
Can I have a … beer please?
uma cerveja, por favor?
Can I have a … glass of wine please?
um copo de vinho, por favor?
I am a Vegetarian
Sou vegetariano/a
Could you help me please?
Poderia ajudar me por favor?
I'm allergic to…
Sou alérgico/a a…
ATM
Caixa multibanco
I'm looking for the…
Estou a procura de…

Directions:

Direção:

How do I get to…?
Como chego ao…..?
Is it far?
Fica longe?
Go straight ahead
Siga em frente
Turn left
Vire à esquerda
Turn right
Vire à direita
Open
Aberto
Close
Fechado
I am lost
Estou perdido/a
Where is the …hospital? post office? bus station?
Onde é … o Hospital? Correios? Estação de autocarro?
For more information about the Camino Portugues or to book your Camino de Santiago trip, contact our travel specialists