How to treat blisters on your Camino trail?
A common fear for any long-distance walker is the appearance of those raw red blisters on your heel. Your heels are especially vulnerable if you are planning to walk any of the longer Camino de Santiago routes. Don't fear we have some handy tips on how best to treat those painful bumps. Not everyone suffers the inconvenience of blisters after walking but knowing how to treat blisters when they start to feel sore or become visible is key.
Here are some do's and don'ts when looking after your feet and preventing blisters when walking the Camino trails:
Wear comfortable shoes
This is probably one of the most important tips for your Camino journey. Having a good pair of well fitted walking shoes or hiking boots will make your walk easier, helping to prevent blisters. Depending on the route you choose you will want to choose between your boots and shoes. This will also depend on the time you have taken to practice walking long distance. Brand new hiking boots are a big no, no for your walk. Make sure that your boots are well worn in, this will help with ankle support. Remember that the less flexibility you have the more likely it is that blisters will start to appear.
Invest in Merino wool socks
These socks are a must have for your next long distance walk. If you can't get a hold of Merino wool try to find socks that absorb sweat and try layering socks to avoid friction between the feet and the shoes.
Bring Compeed in your backpack
We recommend that walkers carry some compeed patches with them in their backpacks. If you don't have compeed use a bandage to reduce friction and protect your feet from contact with your walking shoes.
Apply Aloe Vera gel
This gel will help to cool down the soreness and the redness. Aloe Vera is known for it's disinfectant properties that will help to prevent infection. If you see a blister starting to rise apply the Aloe Vera gel to the blister and the surrounding skin. This should help the blister to heal quicker.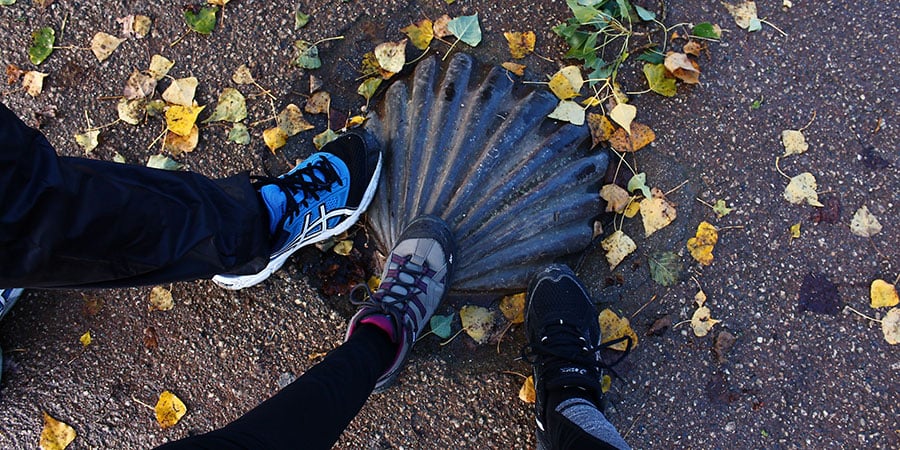 Keep your feet clean
This may seem obvious but when you are out walking on the Camino trails all day it can be difficult to keep your feet well cleaned. Remember to bring a clean pair of socks in your backpack each day. When you stop for a rest along the way take time to give your feet a break. In some small towns along the routes you will find small washing places. Traditionally pilgrims would take some time to wash at the stream at Lavacolla, just outside Santiago. Take advantage of these enjoyable stopping points. There are many along the way. If blisters get infected it can be too painful to continue walking so make sure you clean the blister regularly to avoid infections.
Avoid bursting the blister
To drain the blister don't use dirty hands or tools. Many people will avoid bursting the blister but as it expands it builds up fluid as becomes very painful. Eventually it may burst on its own.
Keep your feet dry
Keeping your feet as dry as possible is important. The sweat from walking may irritate the feet and moisture makes blisters worse. If you need to rest your feet just take some time out from the walk. If you feel the initial sting don't ignore it, keep the sore area dry, change your socks and keep your feet as clean as you can at all times.
These are just a few handy tips to follow but I am sure all of the Camino walkers out there have plenty of advice for preventing blisters and looking after your feet on the trail. We would love to hear about any extra advice you may have?
For more Camino travel tips or to book your next Camino de Santiago tour contact one of our travel specialists.