Sunday Walk: Kilmashogue Forest Trail, 4 Sept 2016
Join the CaminoWays.com team for our next Sunday walk, taking place on Sunday 4th September, at 9.30am. For our next preparation walk we are heading to the Kilmashogue looped forest trail. This wonderful trail takes you along forest tracks and has spectacular views of Dublin City from the mountaintop. We will walk up through the forest onto the mountain paths and reach the ancient Fairy Castle for a short break before continuing along a mixture of mountain tracks.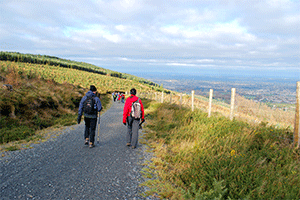 The walk will take approximately 2.30hrs to complete and it will be a good training day for those getting ready for the Camino, or if you just fancy a bit of fresh air! Some of us are keen walking and foraging enthusiasts here in the office and as it is the middle of blackberry season we might even pick up a few berries along the way.
Meeting point is the Kilmashogue forest car park, here's a map: https://goo.gl/maps/Q3F8JxJwZe32 . It is easily reached and located approximately 30 minutes drive from Dublin City centre. Just pass through Ballinteer and the M50 and you will reach a small roundabout. Take the first exit and you will see the carpark on the left as you drive up the hill.
For information about the Camino de Santiago or to book your trip, contact our knowledgeable travel specialists.