Our Camino de Santiago Student Tours are made to inspire!
CaminoWays is your partner for Camino de Santiago Student Tours. We help students and teachers experience the culture of the Camino, explore historic sites in Santiago, learn the Spanish language and connect with the locals.
Our travel specialists will work with each class to create the perfect itinerary for your next school trip. Do you want to go on the adventure of a lifetime with your school class? Why choose the Camino for your next school tour: The challenge, the fun, the journey, the history, the people and much more…This is the perfect way for your class to explore new places, and share new experiences and each student will have the chance to get their pilgrim certificate when they arrive in Santiago.
To get a free sample itinerary, you can contact our group's team.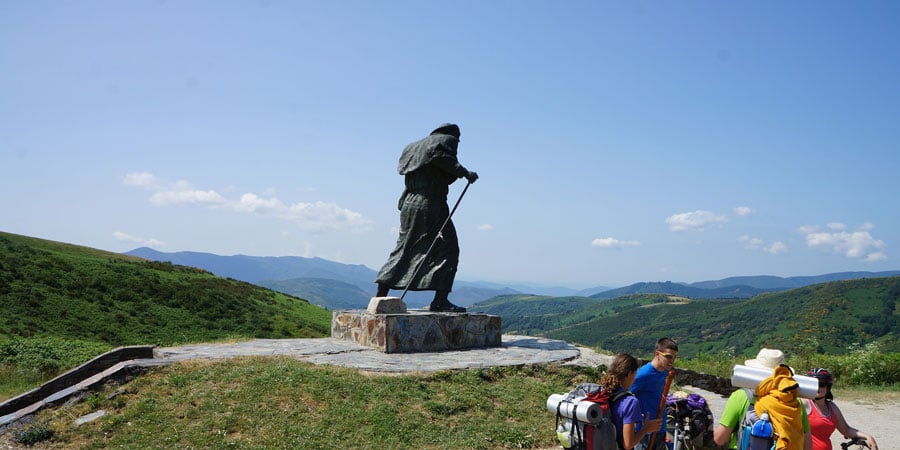 Camino de Santiago Student Tours or your school
WALK THE CAMINO DE SANTIAGO  – 1 WEEK TOUR
Walk the most popular trail on the Camino with your class. You will discover the beauty of Northern Spain, meet pilgrims, sample the local food, stay in private hostels and arrive in historic Santiago.
Day 1 Sarria – Begin your CaminoWays trip!
Enjoy the first day exploring the charming town of Sarria with your classmates. You will have the chance to eat a group meal and start preparing for the walk.
Day 2 Sarria to Portomarin (22km)
Today you will walk along quiet roads and pass through some very social Spanish villages. This trail is full of atmosphere with pilgrims coming on and off the trail to the next stop. Once you get to Portomarin, you will have plenty of time to relax and enjoy a nice meal with your friends.
Day 3 Portomarín to Palace do Rei (25km)
You will wake up in the lovely village of Portomarin and climb steadily out of the town towards Serre de Ligonde. Don't forget your bottle of water for the day ahead. Along the way, you pass through tiny hamlets. Be sure to peek into the Romanesque Church of Santa Maria in Castromaior.
 Day 4 Palas do Rei to Arzua (29km)
Today you are following the yellow arrows downhill. You will cross several streams and pass through the cute village of Leboreiro. Stop for a break in the lively town of Melide, where you can sample some local food. Try the octopus, Galicia's most traditional dish. After forest tracks and more streams, you will reach your accommodation for the night in Arzua, a famous town for its cheese.
Day 5 Arzua to Amenal (23km)
Pretty woods, peaceful streams and sleepy villages greet you all day today. Rest in Rua before continuing on a mixture of country roads and forest tracks.
Day 6 Amenal to Santiago de Compostela (21km)
On your final day, you will feel excited walking alongside your class and fellow pilgrims into the historic city of Santiago. Your first stop should be Lavacolla on the outskirts of Santiago. This is where pilgrims used to wash in preparation for their arrival in Santiago. As you enter the city, you will be pleased to see the spires of the Cathedral. Celebrate with fellow walkers in Santiago Cathedral square, and be sure to go to collect your pilgrim certificate. Enjoy dinner in this vibrant city.
Day 7 Santiago de Compostela
After breakfast, your group will be transferred to the airport for your return flight home.
For more information, contact our group's team.
You can also create your perfect trip with our famous Camino de Santiago planner.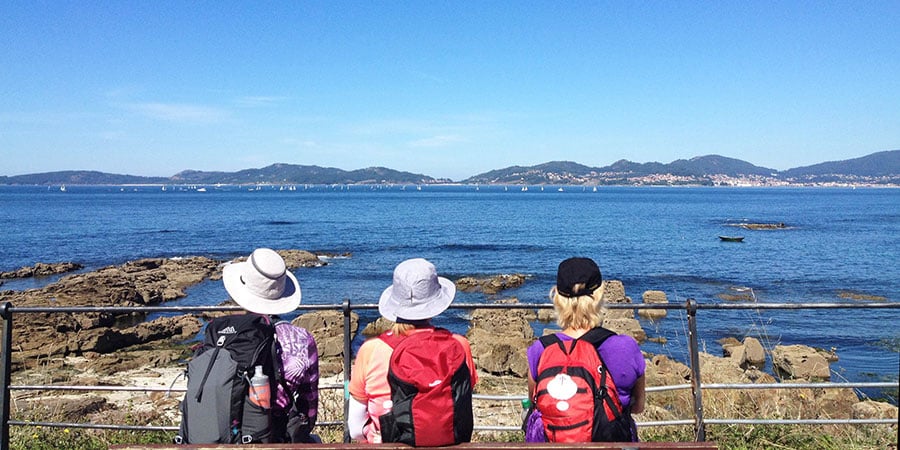 CAMINO DE SANTIAGO – VIGO TO SANTIAGO
On this tour, you will walk from the Cathedral town of Tui in Galicia. You will walk through historic towns, and peaceful woods and see some superb architecture.
Day 1 Vigo – Start of your journey
You arrive in Vigo.
Day 2 From Vigo to Arcade (22km)
From O Porrino, you will continue along the Louro valley, and as you make your way toward Redondela, you can spot the bay in the distance. On this trail, you are surrounded by sweet-smelling pine trees until you reach the village of Setefontes, just before reaching the town of Arcade. Arcade is famous for its oysters, so you should try it while you are there.
Day 3 From Arcade to Pontevedra (12km)
Today is a short day with magnificent views. You cross over the Ponte Sampaio bridge, one of the areas where Napoleon's army suffered one of their most significant defeats. After walking up a cobbled street, you will come to the church of Santa Maria. Stop here to admire the fantastic views of Vigo bay.
Day 4 From Pontevedra to Caldas de Reis (22km)
After a relaxing night in Pontevedra, you are ready for the challenge today. Your walk will take you alongside chestnut groves and pass through the lovely hamlet of Ponte Cabras. A statue of Saint James will point your way when you get out of the woods. Stop by the hamlet of Tivo with its lovely fountain for a break. Enjoy a nice evening meal in the spa town of Caldas de Reis.
Day 5 From Caldas de Reis to Padron (18km)
After passing a fountain of hot springs, you will enter the woods, going uphill to Santa Marina. Enjoy walking through a forest lined with pine trees as you walk along the river to the town of Padron.
Day 6 From Padron to Santiago (25km)
The Camino passes through many small villages and hamlets before arriving at the Baroque sanctuary of A Esclavitude. You will see abandoned ruins known as Castro Lupario. As you get closer to your final destination, you will the spires of the cathedral in Santiago de Compostela.
Day 7 Santiago de Compostela
After breakfast, you are free to explore the incredible historic city of Santiago and make your way home.
For more information, contact our group's team.
You can also create your perfect trip with our famous Camino de Santiago planner.
ORGANISE THE CAMINO –  1 WEEK
Put together the perfect package for your class or international society, Camino de Santiago Student Tours. With our tailored packages, we can ensure that your group experiences the best of the Camino de Santiago.
You will have a chance to learn about the history, hike excellent trails, see the sites and taste the food in Northern Spain.
All of our packages include the following:
Hotel accommodation
3-course dinners
breakfast
airport transfers
certified guide
free Camino presentation
24/7 customer service
1 free passenger (depending on numbers).
We have some great resources for your class. We will provide you with a free beginner's guide, a class presentation, fitness advice, a holiday pack with detailed Camino information, and gear lists with discounts in selected outdoor stores.
We also offer informative talks and preparation walk throughout the year. We can arrange a personalised talk for your class with tips, tricks and advice for your Camino journey.
Does your school have an eco-friendly attitude? We have an annual CaminoWays Fund for responsible travel projects, offering financial support for one lucky eco-friendly initiative per year. You can apply for our CaminoWays Fund and become an accountable travel group.
Create your perfect trip with our famous Camino de Santiago planner, or contact us