¡Nos complace anunciar que somos oficialmente uno de los mejores lugares de trabajo en Irlanda en 2020! GreenlifeTours Ltd ha sido reconocida como una de las mejores pequeñas empresas en la decimoctava edición de los premios «Great Place to Work» en Dublín.
Este es el primer año que Greenlife Tours Ltd es nombrado como el mejor lugar de trabajo, evaluado a través de la sólida encuesta de empleados del Place Trust Index de Great Place to Work y una exhaustiva evaluación de «Culture Audit»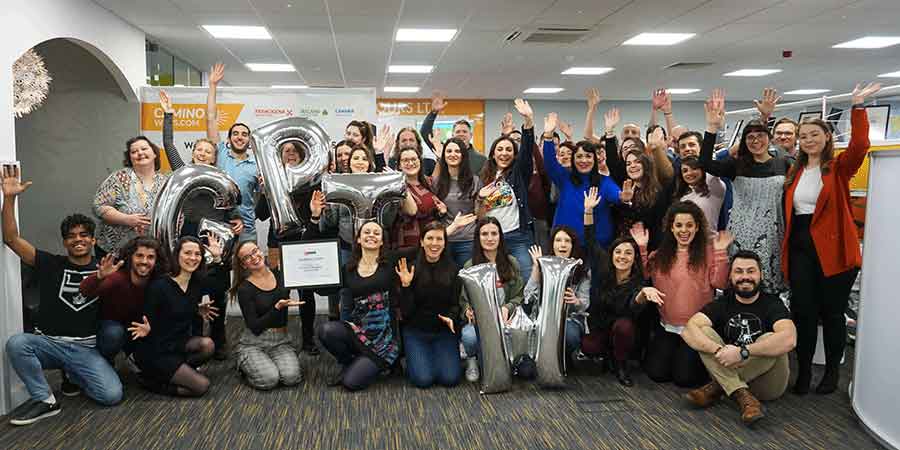 «Estamos muy felices en ser reconocidos como uno de los mejores lugares de trabajo en Irlanda. El objetivo de Greenlifetours LTD es crear experiencias que cambien la vida de nuestros clientes, y esto no sería posible sin la dedicación y el compromiso de nuestros empleados». explica nuestra compañera Claire Dasilva, Directora de Atención al cliente en Greenlife Tours.
«Resulta alentador ver que a nuestros empleados y empleadas les enorgullece trabajar para GreenLife Tours y consideran que este es un ambiente de trabajo divertido y amigable. Nuestra compañía se esfuerza por cultivar un lugar de trabajo que atraiga el mejor talento y ayude a nuestros empleados a crecer profesionalmente», añade Holly Cummins, responsable del departamento de Recursos Humanos en Greenlife Tours.
Sobre Greenlife Tours Ltd
Greenlife Tours Ltd es la compañía detrás de las marcas CaminoWays.com, CanariaWays.com, IrelandWays.com y FrancigenaWays.com, donde ofrecemos rutas de senderismo a pie y en bicicleta.
Creemos que viajar es enriquecernos de la cultura, tradiciones y compartir vivencias con nuestros compañeros y compañeras de viaje. Viajar es abrirse a una nueva forma de ver el mundo que nos rodea e incluso una forma nueva de vernos a nosotros mismos.
Somos un equipo de profesionales, apasionados por viajar y por el senderismo y nos sentimos orgullosos de formar parte del viaje de muchas personas procedentes de todas partes del mundo. Lee más sobre nosotros aquí: Nuestra historia.