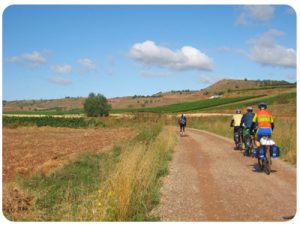 Main roads are not in our vocabulary!
-On our cycling holidays: We spend the day pedalling on vineyard paths, small well-paved village roads and designated cycling routes. In general, you can expect 2 hills per day. Understand that what goes up must come down. You will love our roads.
-On our walking holidays: Crossing countries, even continents, you will discover an amazing panel of diverse landscapes. A typical walking day will start from a small village or town, and take footpaths, dirt tracks and sleepy country-side roads.
Each route will have its own particular characteristics, so talk to our Camino de Santiago specialists for advice on which stage will be the best for you.