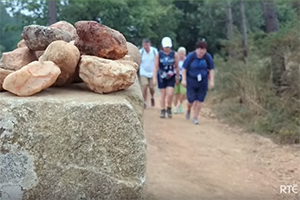 The Walk of Life, a special Camino documentary by the RTE Woud You Believe? team, hits the screens on Tuesday 1st December. This touching film follows a group of cancer survivors as they walk the Camino to Santiago de Compostela together. This is no ordinary Camino. Along the way, they try to heal the emotional and mental scars inflicted on them by the illness. Linda Keating, organiser of the walk, lost her mother 17 years ago and went on to set up The Marie Keating Foundation to support cancer sufferers. Linda will also be stamping a Camino passport for her mother in every village and chapel along the way.
Here's a fantastic preview of The Walk of Life:
The group is led by clinical psychologist, Dr Paul D'Alton, Head of the Psycho-Oncology Department at St Vincent's University Hospital. He is agnostic about religion, but firmly convinced that mindfulness aids emotional and physical healing. Along the 115km pilgrimage route, he teaches the group the principles and techniques of mindfulness – how to live in the present and deal with negative thoughts and anxieties. But Paul D'Alton also finds himself inspired by this journey and his fellow travellers.
Bernie Walsh had planned to walk the Camino in 2012, but had to cancel the trip when she was diagnosed with cancer. Marianne McGrath is going on this journey to rediscover her old confident self, which she feels she lost during her illness. Liz Yeates is incredibly grateful to have survived cancer twice, while Teresa Heeran struggles to allow herself to be happy since she lost her husband to cancer.
Together, this group of cancer survivors will spend six days walking the final 115 kilometres of the Camino. But this journey is not just a physical challenge. Will this pilgrimage help lead them to longer, happier and healthier lives?
Don't miss this touching and inspiring Camino documentary: THE WALK OF LIFE – A Would You Believe? Special. 10.15pm, 1st December, RTÉ One.
For more information about the Camino de Santiago routes or details about Camino trips, please contact our travel specialists