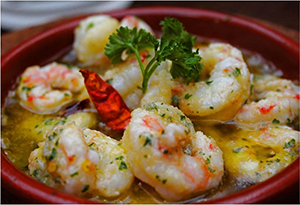 Taste the Camino! Join us for a fantastic Camino evening on Wednesday 7th October at The Salt Yard Spanish restaurant in Kilkenny city.
CaminoWays.com has partnered with Spanish restaurant The Salt Yard to host an unique Camino evening with plenty of flavour.
The event will start at 7pm and attendees will get a chance to savour authentic Spanish tapas inspired by the Camino de Santiago, all prepared by talented head chef Ernest Subirana Sanchez.
The Camino-inspired feast will be followed by a presentation from CaminoWays.com director Roland Monsegu focusing on the history, culture and routes of the Camino de Santiago; as well as advice for those planning to embark on a Camino journey next year.
Don't miss this chance to taste the Camino. Tickets cost 25 euro per person. To book a table, contact The Salt Yard: thesaltyard.ie or on 0567703644.
For more information about the Camino de Santiago routes or to book your Camino trip, contact our travel specialists