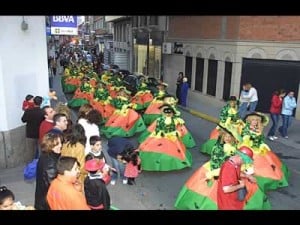 You can combine this festival with a short Camino finishing in Santiago
Santiago de Compostela, in Galicia, celebrates this age-old fiesta where masks and fancy dress combine with carnival floats and typical cuisine.
O Antroido is the name given to Carnival in Galicia. It is a deep-rooted tradition in this Region, especially in its capital, Santiago. Here, masks and fancy dress fill the city streets. On the Tuesday there
is a parade with floats and carnival groups formed by local residents and friends. On Ash Wednesday, the day that marks the end of the celebrations and the beginning of lent, there is a satirical procession that ends up with the burning of "Meco", a doll that represents the Carnival, in Plaza de O Toural Square. The celebrations can also be felt on these days through the regional gastronomy, with dishes such as Galician stew, filloas (like pancakes), shoulder of pork and cacheiras (type of potato omelette).