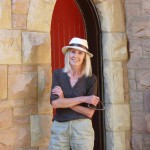 Monastery Hopping in Spain
By Emliy Brennan
Published: October 12, 2012
http://travel.nytimes.com/2012/10/14/travel/monastery-hopping-in-spain.html?_r=1&
WHILE walking the Camino de Santiago, the pilgrimage route to the Spanish city of Santiago de Compostela, in 2005, Miriam Murcutt stopped in a few tucked-away monasteries, many built as early as the 12th century.
Inside them, she said, "You're surrounded by massive stone walls and soaring roofs that were already 450 years old when the pilgrims landed on Plymouth Rock," she said. "You can feel the weight of the centuries."
Ms. Murcutt returned to Spain in 2009, staying only in monasteries. With her writing partner, Richard Starks, she documented her experiences in a new book "A Room With a Pew."
Below are edited excerpts from a conversation with Ms. Murcutt on how to visit Spain's many monasteries.
Q. How do you find monasteries that are open to guests?
A. The Spanish government runs a number of monasteries, along with castles and fortresses, that have been converted into hotels (paradorsofspain.com).
Richard and I were interested in staying in functioning monastic communities, which are harder to find. To do that, a very good resource is GuiasMonasterios.com, which lists monasteries across Spain according to town and region. It's in Spanish, but even if you don't speak the language, you can look for the words "hospedería," "hospedaje" or "residencia" to figure out which ones offer accommodations. I would also look on Top-Tour-of-Spain.com, which despite its package-tour-sounding name has two dozen monastic listings. Most monasteries are about $50 to $70 a night per person, but some are free or ask only for a donation. From there, I would visit the monasteries' individual Web sites — nearly all of them have one; they're not Luddites — and e-mail them to get a feel for their community, their expectations and the experience they offer.
Q. Does one need to participate in religious life?
A. Each community is different. The nuns of the Convento de la Purísima Concepción in Marchena, for example, are happy to let you use their community as a base for exploring — they say so on their Web site. Officially they're a cloistered order, but they're quite lively. They're so young, almost all from Kenya or Ethiopia, and they support themselves by making little marzipan sweets and running a restaurant.
On the other hand, you have the Monasterio de Santa María de las Escalonias, which as a Trappist monastery is devoted to work and prayer. They don't expect you to go to every prayer service, but some of them. The first prayer starts at 3 in the morning, and it's actually quite beautiful: the stars are out, and you listen to their chanting. The monastery itself is a beautiful old farmhouse, and the church a converted cow barn, surrounded by orange and walnut and fig groves in the Córdoba region. You're expected to set and clear the table, and the meals were delicious.
Q. What are the accommodations like?
A. There's usually a twin bed, a desk, a Bible, a place to hang your clothes, and some rooms have en suite bathrooms. Not all monasteries take both male and female guests, so check beforehand. One room I particularly loved was in the Real Monasterio de Santa María in Vallbona, Catalonia. It had beautiful floor-to-ceiling windows that opened up on the yellow roofs of the village.