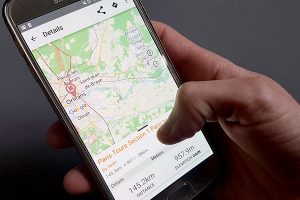 Embracing technology and the Camino. Today we are going to show you how easy it is to download your Camino GPS waypoints to a smartphone.
To use the phone or not to use the phone, that is the question! We are all for technology detox's in this day and age, but if you are a nervous traveler and unsure of what a Camino entails, having a smartphone with you can at times make your life a whole lot easier. Not only is your phone crucial to contact us if you have an emergency but unknown to many of us it can also be an amazing resource when you are on your journey. Have I caught your attention, I hope so? Read on for more information.
Your smartphone device can now be an amazing navigation tool that will aid you when you are on your Camino quest. Worried to go too far off the beaten track, lost your place in the walking notes or missed the last Camino marker? Worry no more. Simply follow these simple steps before you embark on your journey and rest easy that no matter what journey you take the CaminoWays.com team and your smartphone will be there for you.
Step 1: Before you leave on your trip we will send you your holiday pack via email, containing everything from your accommodation information, walking notes to printable maps. This is everything you should need and more for your trip but at your request we can include the GPS track of the route you will follow. This file will contain the co-ordinates track of your route will be easily recognizable in the .gpx format. Download this .gpx file and save it on your desktop.
Step 2: On your computer visit the Ride with GPS website (www.ridewithgps.com) and simply create an account free of charge.
Step 3: With your account created, at the top of your screen you should see a tab 'Upload'. Here on your left, you will see the option to Select files from your computer. Now simply upload the .gpx file that you received and saved on your computer in Step 1. Your Camino route will now be stored under My Routes and will be able to be accessed here.
Step 4: On your smartphone device you will be able to download the Ride with GPS App (Android devices from the Play Store and on Apple devices from the App Store). Sign into your Ride with GPS account on your App to view your route.
NB. Ride with GPS is not available on Windows phones.
Step 5: Now your route will be able to be accessed on your phone whenever you have an internet connection. You will be able to see your location in relation to your Camino route, zoom in and out for a more detailed view and change between different map types (eg. Google maps, Open Street Map or Satellite view).
You should have access to Wi-Fi each night at your hotel during the trip, so we recommend you have a look at the route for the following day, each night of your trip. If you wish to access the maps offline the next day we recommend that you go through your entire route each night on your device at different zoom levels. By doing so your route will be stored in your device cache and will be able to be accessed easily the next day offline and best of all, free of charge.
Step 6: If you wish to download and access the maps and route at any time (without an internet connection), we recommend that you upgrade your account to access this useful feature. There are 5 different subscription offers available, the cheapest being the 1 week Basic Pass for €4.39 or the monthly basic subscription for €6.49. After your Camino, you can unsubscribe to the service on your device if you do not wish to continue to use.
Step 7: Familiarise yourself with the workings of the App before you leave, so that in the unlikely situation that you do feel lost, your location is only a few finger movements away.
NOTE: In this example we use Ride with GPS, however it is important to note that there are many other navigation app options available such as OsmAND etc . If you have a GPS device (eg. Garmin, TomTom etc), you will be able to upload/ copy-paste your .gpx file onto your device from your Computer in a similar way to that described above. Please note it is important to save the .gpx file on your desktop or the equivalent before copying the file to your GPS device.
Buen Camino!!!
For more information about our Camino routes or to book your trip, contact our travel specialists