The Parador de Hondarribia is a beautiful four star hotel situated along the Northern Way of the Camino de Santiago, in the little town of Hondarribia, in the Basque Country on the border between France and Spain. This hotel is built inside a fortress dating from 980, therefore the hotel has a real history behind it.
Founded by the Navarrese king Sancho Abarca in the tenth century, the hotel and castle retains the structure of a real medieval fortress in a charming monumental and coastal environment. This defensive building with thick walls hides a masterfully restored property.
After a day walking the Camino, a break in the Parador of Hondarribia will be perfect, you will feel that you are back in the Middle Ages. Thick stone walls, arches, armour and spears adorn this castle which was founded in the early days of the Christian re-conquest.
The castle and now Parador has undergone numerous vicissitudes during its violent border history. It had to serve as a refuge and fortress.
The passage of time transformed this magnificent fortress into ruins and many years later the fortress was purchased by Queen Dona Maria Cristina.
A long and painstaking restoration work began in 1929 with the installation of a lift. Finally, the hotel was inaugurated as a National Parador by General Franco in 1968.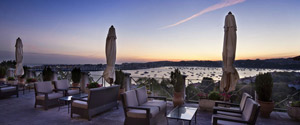 Charming nooks and crannies, spaces adorned with arches, wrought iron and coffered ceilings surround the guests in an atmosphere of indescribable beauty. Lances, cannons and armours make up the interior decoration offering an air of historical elegance.
There are around 35 bedrooms available in this incredible hotel, some of them with a view on the sea.
For more information about the Camino de Santiago and the Northern Way, please contact us!