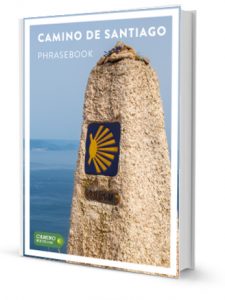 Getting ready for your Camino trip soon? Don't go without downloading our free Camino phrasebook first!
Part of the beauty of the Camino experience is getting to know the local culture and history of the places you will be passing; and language is a very important part of that cultural journey.
Our Camino phrasebook is a handy ebook packed with the most common and useful phrases in the many languages you will encounter on the Camino de Santiago routes. If you are walking the Camino Portugues, you will find useful lines in Portuguese, as well as Spanish and Galician; if you are tackling the Camino in France, we have included useful French.
You can download it to your mobile phone or print at home before you set off, and Buen Camino!
To download, just click on the phrasebook image or fill in the form here: CAMINO PHRASEBOOK.
Have you got our Camino ebooks? You can find them all here: DOWNLOAD CAMINO EBOOKS.
For more details about our Camino routes or to book your Camino de Santiago trip, contact our travel specialists