Join us for a free webinar on May 16th at 4:30pm. In this free online talk Juanma will discuss the most popular trails when you are walking in Italy. For this free online talk we are going to provide information on the famous Cinque Terre coastline trail, the Via Francigena routes in Tuscany and the Saint Francis Way, finishing in Rome.
Walking in Italy is a truly magical experience. From the tracks lined with olive groves to the delicious food, Italy is a wonderful country to explore and even better on foot.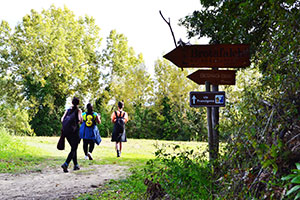 All of the routes that we review will give you a true taste of the Italian lifestyle.
In this webinar we will explore some of the most popular walking and cycling route on the Via Francigena sections in Tuscany. The Via Francigena is the Camino to Rome, an ancient pilgrimage that is well sign posted and goes through some of the most magnificent landscapes in Europe. The whole route begins in Canterbury and finished in Rome but we are going to focus on the sections in Tuscany for this webinar.
We will also outline the stunning walking route along the UNESCO listed Cinque Terre coastline. Along the way you will discover colourful villages of Riomaggiore and Monterosso clinging to the cliff edges. You can have a swim in some of the many sandy coastlines and enjoy the views over fields full of vineyards and olives.
Our travel specialists will discuss some of the most beautiful routes, including: the section from Lucca to Siena, Siena to Viterbo and Viterbo to Rome. We will give you details on how to pack, what to wear, some cultural and culinary treats to expect and the best time of the year to travel.
We will also host a question and answer session at the end of the webinar so that everyone has the chance to ask those all important questions.
Register here for our next free webinar covering the top walks in Italy, taking place on Tuesday, May 16th at 4:30pm.