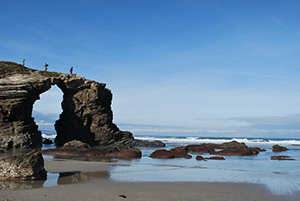 If you are walking the Camino del Norte – Northern Way and stopping in Ribadeo, you will not want to miss one of Spain's most spectacular beaches: the Catedrais beach (Cathedrals Beach), located only a few kilometres west of Ribadeo town and named after the shapes carved in the local stone by the sea.
In order to protect this impressive natural monument, the Galician government is limiting the number of visitors per day during the Summer months and Easter time from this year. A ticketing system has been introduced from 1st July until 30th September. If you are planning to visit the Cathedrals Beach during your Camino del Norte you should request your ticket (free) in advance (15 days).
Local authorities have been reassured visitors staying overnight in Ribadeo will be guaranteed access to the Cathedrals Beach but if you are preparing for your trip, make sure you request your ticket online at the Xunta de Galicia's dedicated site: ascatedrais.xunta.es (in Spanish and Galician). If you are travelling with CaminoWays.com and need assistance, please let the team know as we work closely with local hotels in Ribadeo.
For more information about the Camino del Norte, the different Camino de Santiago routes or to book your Camino trip, contact our travel specialists