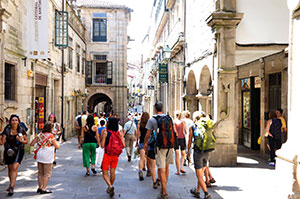 The end of the year is fast approaching and we'd like to know if you enjoyed your trip with CaminoWays.com. How can you send us your comments and/or post a review?
We have many different ways you can share your feedback and/or post CaminoWays.com reviews:
By email
You contact the customer care team to share your feedback about your holiday with CaminoWays.com. If you'd like your comment to be added to our testimonials section, please let us know.
TripAdvisor
We have a TRIPADVISOR profile where you can post your reviews after your Camino de Santiago or Via Francigena trip. We have been awarded a certificate of excellence for 2014 thanks to comments published by happy CaminoWays.com customers so thank you!
Feefo
A few weeks after you have travelled you will receive a questionnaire from Feefo. This review is divided in two categories: service and product and the form is only received by customers after their trip.
Both TripAdvisor and Feefo are both public reviews so we expect comments from customers to be fair, respectful and honest. We welcome your feedback and we would encourage you to get in touch with our Customer Care team to let us know about your experience.
The team's goal is to provide always the best service to our clients but sometimes mistakes and unexpected issues can happen. We are a small tight team and our emergency number is the best way to let us know about unexpected issues, so they can be fixed while you are on the way. We believe communication with our customers is always the best way to improve our service and to resolve unexpected glitches. Your feedback is important to us, as it allows us to constantly improve the services we provide, from hotels to transfers.
Feedback form
We also have an after travel feedback form you can find on the CaminoWays.com website: CaminoWays.com Feedback Form. This is not public but you can indicate if you would like CaminoWays.com to publish your comments on the Testimonials section. And of course, you can also leave your star rating and review on the Caminoways.com Facebook page.
Thank you so much for travelling with CaminoWays.com!