Camino Preparation Walks (Dublin only)
The CaminoWays.com team heads out for a Sunday hike once a month for our Camino Preparation Walks. Our hike is usually in the Dublin/Wicklow Mountains area. We prepare a nice walking route, usually under 10km long, and meet in the morning at an arranged point. Whether you are preparing for the Camino de Santiago or just enjoy the outdoors, our Camino preparation walks are good healthy fun. Our walks are open to everybody, whether you have just started to think about the Camino, you have done the Camino in the past or you just fancy heading for a walk with fellow walking enthusiasts.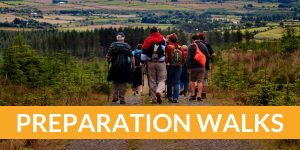 This is a lovely way to begin your Camino preparations and we run them generally from Spring to Autumn.
SIGNUP HERE to CAMINO PREPARATION WALKS
*Details on Sunday Walks 2021 coming soon.
If you are thinking about the Camino for the first time you will have the chance to meet walkers who have experienced the Camino journey. If you have walked the Camino in the past we would love to meet you and share advice on the next route for you. Don't be afraid to ask those all-important questions about your next trip.
If you are planning your next Camino and would like to organise a Camino preparation walk in your area we are here to help you get started.
To get used to walking long distances it is a good idea to train your legs. Depending on the duration of your journey you may require more time getting your body ready.
For more fitness tips and advice you can download our free Camino fitness eBook. This guide will give you all of the information you need to get prepared for your next long-distance walk.
If you are part of a charity group heading on the Camino contact [email protected] to arrange a specific Camino preparation walk for your group.
For more information about the Camino de Santiago routes or to book your trip, contact our travel specialists